Our Mission
Improve the human condition with science and innovation-driven products and services that inspire current and future leaders to become future-ready and unstoppable.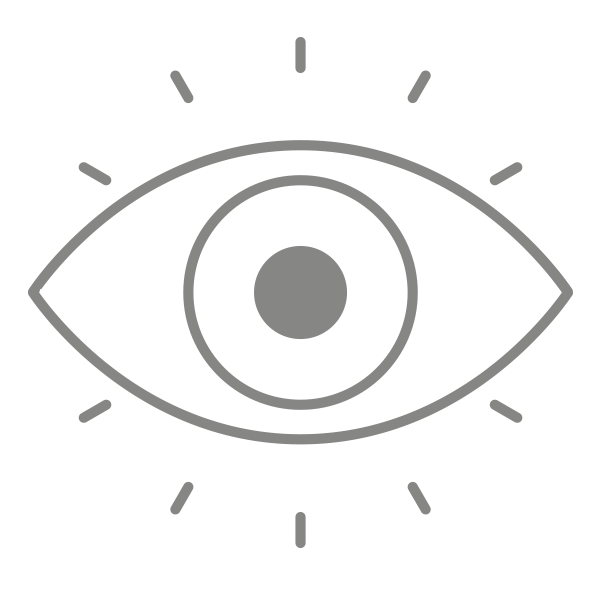 Our Vision
A future where performance benchmarks become holistic and human-first encouraging massively accelerated productivity for the individual, the company, the community, and the world.
What Drives Us?
The deep understanding that potential is boundless. The profound joy experienced when clients discover untapped talents and unexpected insights about how they do what they do and why they do what they do. It's been described as liberating and uplifting. Above all, earning the right to be your trusted advisor and GPS to Success.
Our Strategic Value
Where enterprise-class solutions meet the agility of startups, but without the
enterprise-class cost!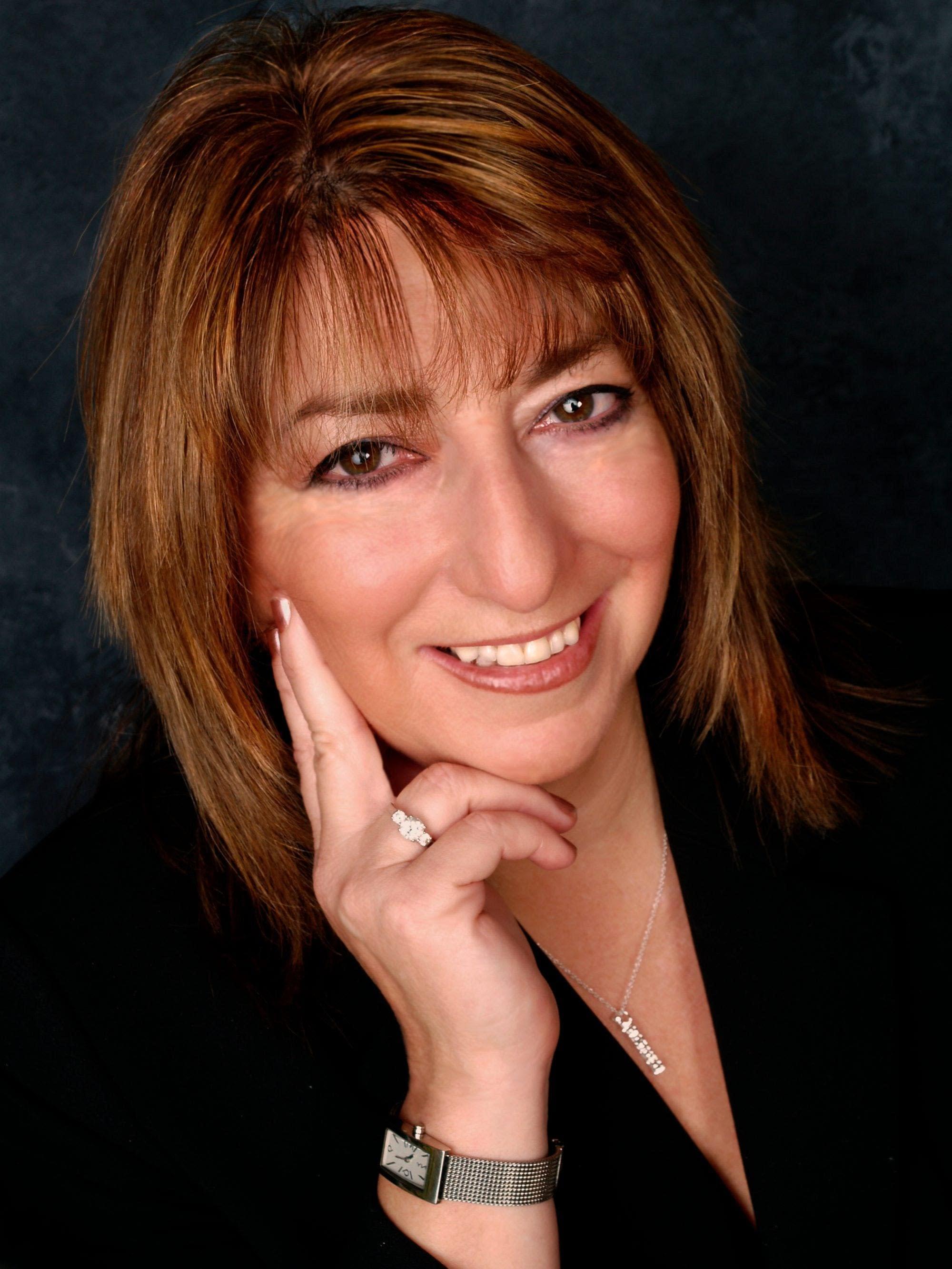 Career Highlights
Led high-profile, million-dollar initiatives and programs.
Managed cross-functional programs with engineering, marketing, PR, and sales.
Drove the creation of a new sales channel to recapture revenue.
Masterminded strategy to create new PCI Industry Standard in hightech industry.
Launched dozens of technology products to market.
Subject matter expert for press and industry analysts.
Developed programs to restore customer confidence.
Startup advisor on fundraising, technology/market validation, partner acquisition, go-to-market and PR strategies.
Partner in a $20M, 5-year NIH grant in with the University of CA, San Diego, the UCSD School of Medicine, and the Moores Cancer Center.
Certified Business Coach – Brian Tracy International System
TTI Certified Professional Behaviors Analyst (CPBA)
TTI Certified Professional Motivators Analyst (CPMA)
TTI Certified Professional – Emotional Intelligence (EQ)
Adriana Vela is a strategist, serial entrepreneur, and certified business coach who has been at the forefront of innovative technologies in the high-tech, biotech, nanotech, and immersive tech sectors. Her enterprise successes include launching dozens of products, driving industry standards, leading million-dollar initiatives, and defining new markets. Entrepreneurial success yielded quotes or features in journal publications such as The Milken Institute Report: 'Minds-to-Market' and the San Diego Business Journal; magazines like PM Networks, PharmaTech Europe, SmallTimes, Hispanic Business, and San Diego Magazine; and interview in a book titled "Work Together Anywhere".
Currently, as the founder of MarketTecNexus, she blends her 15 years' experience in global Fortune 500 companies with 16 years in entrepreneurial ventures and client projects to provide solutions that address challenges caused by the rapid pace and magnitude of innovation-driven disruptions.
Prior to MarketTecNexus, Adriana embarked in the Life Sciences arena through various client-led projects including the BioAgenda Think Tank Institute. In 2004 she founded award-winning NanoTecNexus Inc, a San Diego non-profit corporation to promote safe and market-accepted advances in nanosciences in areas ranging from medicine, healthcare, energy, water and others.
Under Adriana's leadership, NanoTecNexus earned numerous awards including personal recognition from US Senator Dianne Feinstein. Early on, NanoTecNexus partnered with UC San Diego Medical Center as a named sub-recipient in a $20 million, 5-year grant funded by the National Cancer Institute (NCI). Funding led to the creation of a Center for Cancer Nanotechnology Excellence (CCNE) whose mission was to reduce to suffering for cancer patients and caregivers with nanotechnology applied solutions to cancer.
Prior to founding NanoTecNexus, Adriana was instrumental in building and shaping a similar organization in Silicon Valley. In 2013, Adriana also founded NanoTecNexus Learning Group to deliver similar educational programs for the benefit of K-12 students through nano-inspired STEM education. Adriana is a caregiver together with her husband and enjoys family time, outdoor activities and entertaining.
She has been an invited speaker nationally and abroad on various aspects of innovations and has served as an advisor for technology conferences, several independent boards and decision-making committees. In her ample spare time outside of business, she enjoys hiking, gardening, travel, movies and entertaining. Most of all, she enjoys family time with husband and two kids.
Awards
Speaker Certificate of Appreciation
"10 Years of Service and Dedication" Award
Athena Pinnacle Award – Individual in Technology
Recognition Award
30th Annual Bronze Telly Award
2008 Brindis Honoree Award
Letter of admiration and thank you from US Senator, Dianne Feinstein
NanoBioNexus Visionary Award
"You Made It Happen" Recognition Award
Outstanding Accomplishments Award
Conference Recognition Award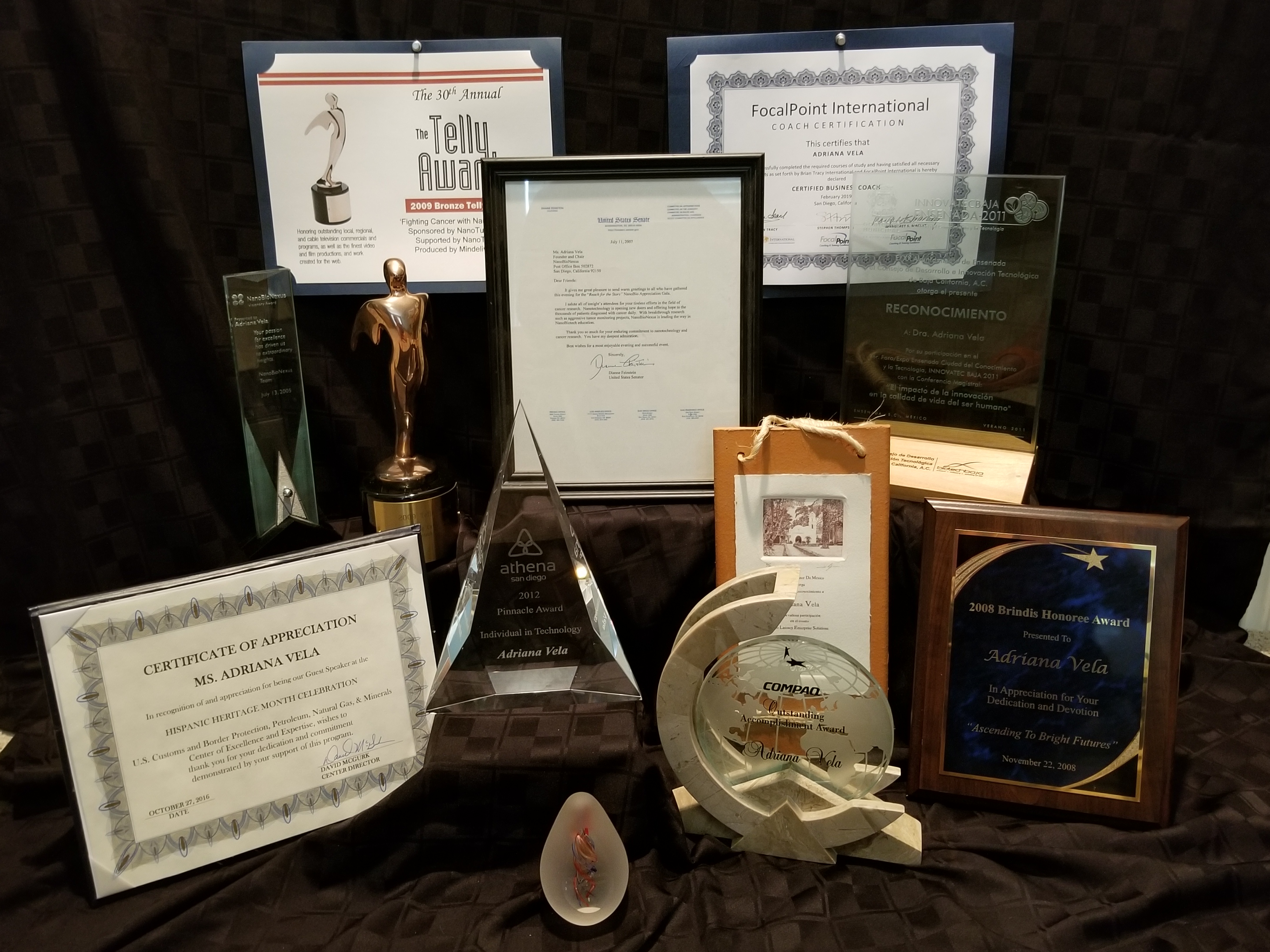 Publications
STRATEGIC PERSPECTIVES: Tiny particles with big implications: Nanotechnology and the FDA


Wolters Kluwer Health Law Daily

NanoTechnology: A lifeline for drying pharma pipelines?


Pharmaceutical Technology Europe

Venture Funding May Start Returning to Nanotechnology


San Diego Business Journal

Give & Take


PM Network Magazine- Project Management Institute

Best Practices Operations Manual – Centers of Cancer Nanotechnology Excellence


National Cancer Institute

The Experts Debate How Big Nascent Nanotech Industry Will Become


San Diego Business Journal

Minds to Market: A Global Analysis of University Biotechnology Transfer and Commercialization


Milken Institute

IT Meets Life Science


Hispanic Business Magazine