SAN DIEGO- NanoTecNexus (NTN), a leading nanotech educational organization highly acclaimed for its premier educational and networking forums, announces new partnerships in conjunction with its 10th anniversary on October 23. A 'Science of Beer' fundraising event, to be hosted at Stone Brewing World Bistro & Gardens – Liberty Station will also highlight NTN's collaboration with White Labs to develop and launch a special release beer in honor of the event.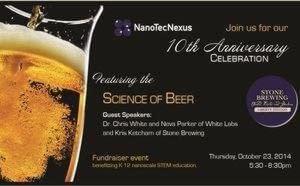 Named NanoArcana 10-9, the special red rye ale was created by Stone World Bistro & Gardens – Liberty Station Brew Manager Kris Ketcham with a unique yeast strain developed by White Labs, the pre-eminent yeast lab in America. The unique yeast, NanoX, was created to commemorate NTN's 10 year anniversary and in
support of nanoscience STEM (science, technology, engineering, and math) education.
"The resource and science literacy gap has always been an important issue to us even from inception as an industry organization." notes Adriana Vela, Founder and CEO,
NanoTecNexus. "We have always invested in K-12 education projects and now with our new mission and exempt status, we want to do more."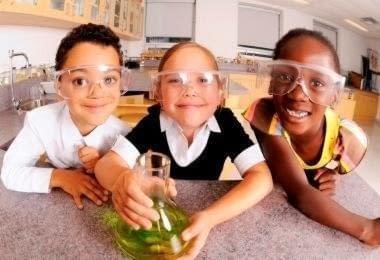 Dr. Chris White, CEO of White Labs, Inc. agrees that "Science plays a critical role in our business given the challenge to keep up with innovation on the brewing scene. We are proud to support the NTN programs designed to inspire students and the community to learn about nanotechnology."
Industry continues to validate the unique value NTN brings to the local life science and technology communities, and to its well-attended educational forums.  NTN builds on these strengths to help secure our children's future by contributing to a healthy business-education ecosystem comprising of industry, academia and K-12.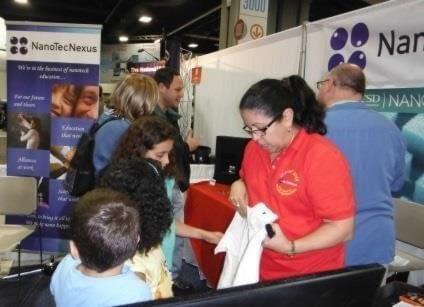 For example, in April, NTN hosted a booth at the USA Science and Engineering Festival (USASEF) in Washington DC, which reached an overall attendance of approximately 325,000 people of all ages. During the event, NTN exhibited among the "rock stars of science," which included science celebrities, explorers, astronauts, athletes, and experts in all areas of science and engineering.
On the heels of the USASEF, NTN launched its highly anticipated 2014 Summer Internship Program. With its unique design, it provided opportunities for interns to build skills in real-world business environments with an emphasis on education.  With this "pay it forward" model, NTN continues to enrich its educational content and deliver on its mission.
Other companies and organizations rallying support for NTN programs include thought-leaders such as ProBack Office LLC, Sughrue Mion PLLC, San Diego Daily Transcript, Ocean NanoTech LLC, Forecast3D, SD3D Printing, Studio2055, SmartGenies, Wilson Sonsini Goodrich Rosati, Moss Adams LLP, Gatto, Pope and Walwick, LLP, National Health Access, West Public Relations, CONNECT.org, von Liebig Center for Entrepreneurism at UCSD, Devtwenty and Nanotechnology Now.
About NanoTecNexus
NanoTecNexus (NTN) focuses on inspiring K-12 students to pursue STEM education careers and transforming how individuals learn about nanotechnology and its impact on industry, academia and society. Founded in 2004, it is acclaimed as a leading nonprofit organization dedicated to the business- education ecosystem.  Its mission is to achieve meaningful change in how society learns about nanoscience.  Originally founded as NanoBioNexus, NTN dedicated its first five years to the intersection of nanotechnology and biotechnology. In 2009, the organization expanded to other sectors and continues to evolve to meet the evolving needs of its constituencies. For more information, visit nanotecnexus.org.
About Stone Brewing World Bistro & Gardens–Liberty Station
Stone Brewing World Bistro & Gardens – Liberty Station opened May 2013 in the now-historic Naval Training Center located in San Diego's Point Loma community. The restaurant encompasses more than 55,000 square feet of indoor and outdoor dining and bars, as well as a bocce ball court, outdoor cinema space and a 30,000-square-foot garden. Celebrating an artisanal, natural approach to food, Stone is the largest restaurant purchaser of small-farm organic produce in San Diego County, and virtually all the food grown at its own Stone Farms is used at the restaurant. Executive Chef Thomas Connolly offers an eclectic menu of world-inspired cuisine. The restaurant features 40 unique craft beers on tap, including year-round and special releases from Stone Brewing Co. as well as exceptional craft and specialty beers from other breweries. As ambassadors of the craft beer movement, Stone also boasts a bottle list of about 80 additional craft beers. Stone celebrates the venue's prior history as a U.S. Navy mess hall while introducing new industrial and organic features of metal, concrete, reclaimed wood, plant life, water and glass. For more information, please visit stonelibertystation.com or Twitter and Facebook. For information on Stone Brewing Co., please visit stonebrewing.com.
About White Labs
Founded in 1995, White Labs is headquartered in San Diego, California and conducts business in more than 30 countries around the world. White Labs delivers pure yeast, fermentation products, services, analysis and education to help professionals and enthusiasts alike craft the best beer, wine and spirits possible. White Labs continually raises the bar in the art of fermentation as the company stretches the limits of science to set new standards in purity and freshness. For more information on White Labs, visit www.whitelabs.com .